The Mishkin Gallery: Working against consumerist trends of galleries and exhibitions
Interview,
4 January 2019
Alaina Claire Feldman was recently appointed as Director of the Mishkin Gallery, City University of New York, Baruch's modern and contemporary art gallery. The last few months saw a process of reshaping missions while upholding the great work and foundation laid by predecessors. This interview journals her early days at the gallery, providing insights into the foreseeable future and ethics of building a creative space for various modes of discourse.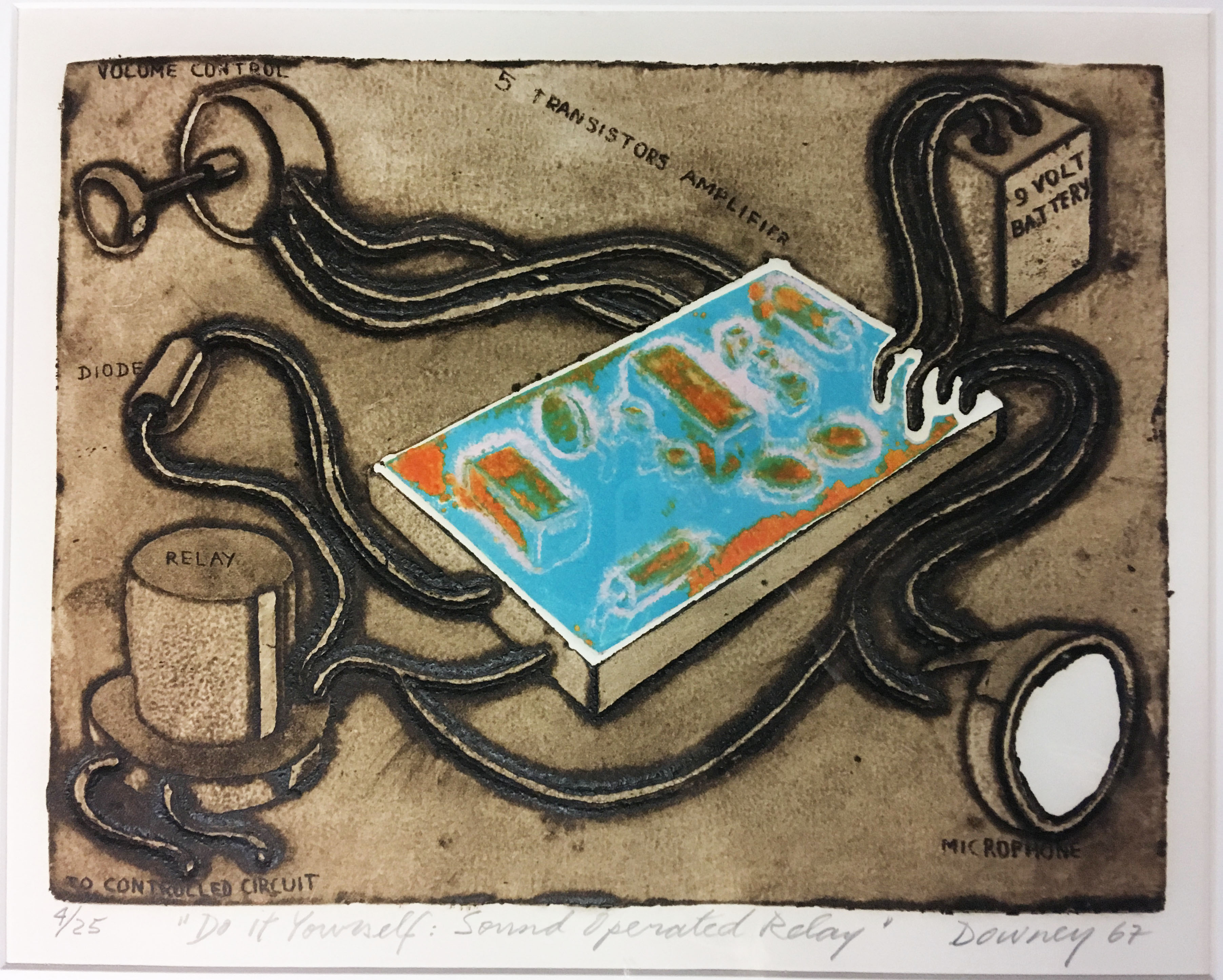 JUAN DOWNEY,
Sound Operated Relay
, 1967. Color etching on wove paper plate (overall) 8 7/8 x 11 5/8 inches. Baruch College Collection.
Firstly, what are some challenges that have arose since taking on the role of Director at the Mishkin Gallery?


ALAINA CLAIRE FELDMAN:
Since I've started at the Mishkin Gallery at CUNY Baruch, it has become evident that not many students or faculty are aware that we have a gallery. That's a significant problem because our mission is primarily to service the academic community. We need to raise the profile of the Mishkin Gallery as a welcoming intellectual and aesthetic resource as it has sadly become overlooked on campus. The gallery is two blocks away from the main campus, so there's an additional physical barrier.
Alaina Claire Feldman at the Mishkin Gallery, 2018
We need to spread the word that we are here, open, and that the gallery is a safe space to ask questions and think beyond the business of everyday coursework.
When I was an undergraduate student in New York, my school library became an important place for me. I would peruse the stacks and on the top floor, in the back corner, there was a leather chair where I would lounge for hours discovering new worlds through books. We are going to recreate that kind of sanctuary by building a library of art books that correspond to and change with each exhibition. At the same time, we are developing our website with a new logo and building fresher social media channels to keep people up-to-date on our programs. I'm really excited because the rebrand team is a group of very inspiring women: Beverly Liang and Eline Mul, and we've been having productive conversations about how to visually channel the welcoming kind of space we want to build.
We are also working on a new initiative – the Exhibition Resource Center (ERC). The ERC is a partnership between the gallery and college library. It is an art and cultural studies focused library that rotates to respond to each exhibition anew. The ERC will include a selection of publications that help to deepen the understanding of artworks on view and a dedicated space for working and reading. As exhibitions change, the publications will circulate into the wider college's gallery.
As a public school, the Mishkin Gallery is also open to the public. There are no ticket sales and anyone is welcome. I'm looking forward to scheduling exhibitions that are up for several sustainable months, for posterity, and brought to life through performances, workshops, talks, tours and more with both local and international participants. By inviting artists, curators and scholars from New York and beyond, we can engage a very diverse audience.
One of your aims include having works and exhibitions that are more representative of the student body at CUNY Baruch. With new cohorts of students and as graduating students leave each year, how do you foresee the gallery adapting to the shift in the character of works?


ACF: CUNY Baruch has more than 18,000 students who speak more than 110 languages and trace their heritage to more than 170 countries. The college is repeatedly named one of the most multicultural student bodies in the entire country. I think the college itself will continue to attract students from all over the world because of its central Manhattan location and affordability.

Public school is wonderful in that way: it's accessible and meant to enhance the intellectual and social mobility of people regardless of their background. The gallery will absolutely reflect this. We have students working here who are a part of the curatorial conversation. They are organizing programming, and sadly they will come and go as they graduate. I hope our public programs will serve as discursive spaces where students, faculty and the community can raise concerns, ask questions, and continue to come together to learn from art objects.


In your opinion what are people most curious about – from viewers, artists to curators?


ACF: Under this capitalist culture in the West which I am currently working within, people are persistently looking for the hottest trends driven by market desire to create new values.


There's an exhaustion that comes with the demand to be ahead of trends, so too there is purposefully a form of respect and desire for deeper research. I want our exhibitions to be scholarly while also being sure to broaden oversights in the mainstream Western cannon.


The Mishkin Gallery will be bringing in artists, curators and art historians from around the world who are specialists in the art on view. We want to share this knowledge and discuss it, which might mean asking more questions then we can answer. There will be only three to four exhibitions a year so people can come back several times and stay as long or as little as they need. In that way, we are going to work against producing quick trends.

As a consequence of the misogynist, racist, and colonialist histories of the mainstream Western art cannon, we are now seeing museums change by representing a more diverse spectrum of art. There has always been good queer, Black, Latinx, feminist and Indigenous art but it has taken museums centuries to shift their habits. Collecting and exhibiting art has a long history of exploiting peoples and cultures and finally there seems to be a consciousness about it. But there's still so much to do.

When I visit museums in Asia or the Caribbean for example, art history is often told from a different perspective. We can expect aesthetic trends and Blockbuster exhibitions that museum goers would want to see, but I hope we can also expose them to something unique and unconventional that they might not see anywhere else in New York.

Do you believe it's important to give more directorial and curatorial roles in the art world to feminists, and why?


ACF: #MeToo has punctured the art world but perhaps it's too early to track what the long-term consequences are. On one hand, you have a terrible abuse of power by male and female curators and directors, and they are rightfully being fired. On the other hand, you have intelligent and strong female curators and directors who are being fired for "undermining" the museum and museum boards. Really, what they are doing is trying to change the structure and culture of the museum to be more inclusive and ethical.

While I do think the gender of the person calling the shots is important, because we all bring our identity into what we do, I also think it's important that we all become feminist curators and curate as feminists.

Helen Molesworth's essay 'How to Install Art as a Feminist' has long had an impact on me. Sadly, she is one of such curators who was recently fired for being "disobedient" and trying to change museum culture in Los Angeles to be more open.

While organizing exhibitions and programs of and by women is important, we also need to be sure we embody feminist causes: Are we paying the artists fees? Are we keeping everyone involved in all parts of communication? Are the art handlers treated fairly? Are we accessible and making sure we can accommodate all people into our gallery?

Your focus for the first year include female artists and art outside the mainstream Western cannon. Are there also plans to work with contemporary artists of colour, or artists with immigrant families in America?


ACF: Yes! I think these go hand in hand. Feminism must be intersectional, all artists should have the chance for their work to be evaluated and exhibited. In the first year alone we are going to show art that is concerned with nationalism, immigration, pedagogy, consumerism, the environment, urban planning, and so on. The next chapter of growing the gallery beyond its physical campus in New York will be concerned with the concept of national artistic identity as increasingly unsatisfactory.


CARRIE MAE WEEMS,
Sea Islands Series
, 1992. Four panels, with two silver prints and two screenprinted text panels. Each 19 3/4 x 19 3/4 inches. Baruch College Collection.


Notions of cultural hybridity, decentering, and exchange have now become accepted by the art world and in academia. By looking past the usual Western cannons of art history and by joining the conversations among other universities and in art schools, studios, and alternative art spaces where art is practised and discussed is one way of understanding and supporting the extraordinary variety of art today.

With the rebrand of the gallery, how do you see the cross between the future of the Mishkin Gallery and its history of 30 years?

ACF:
The first exhibition I will curate here,
The Aesthetics of Learning
, will aim to think about the university itself and the kinds of learning, knowledge and power that it engenders. I'm interested in three series of artworks which challenge the infrastructure of knowledge production itself. It will be a collection show as the Mishkin Gallery has a collection of over 400 modern and contemporary works. Starting the new program with a collection show is a way to honor the history of the gallery while also questioning how to best move forward. I am interviewing the previous director to gain further insights on why she collected specific works and what her process was.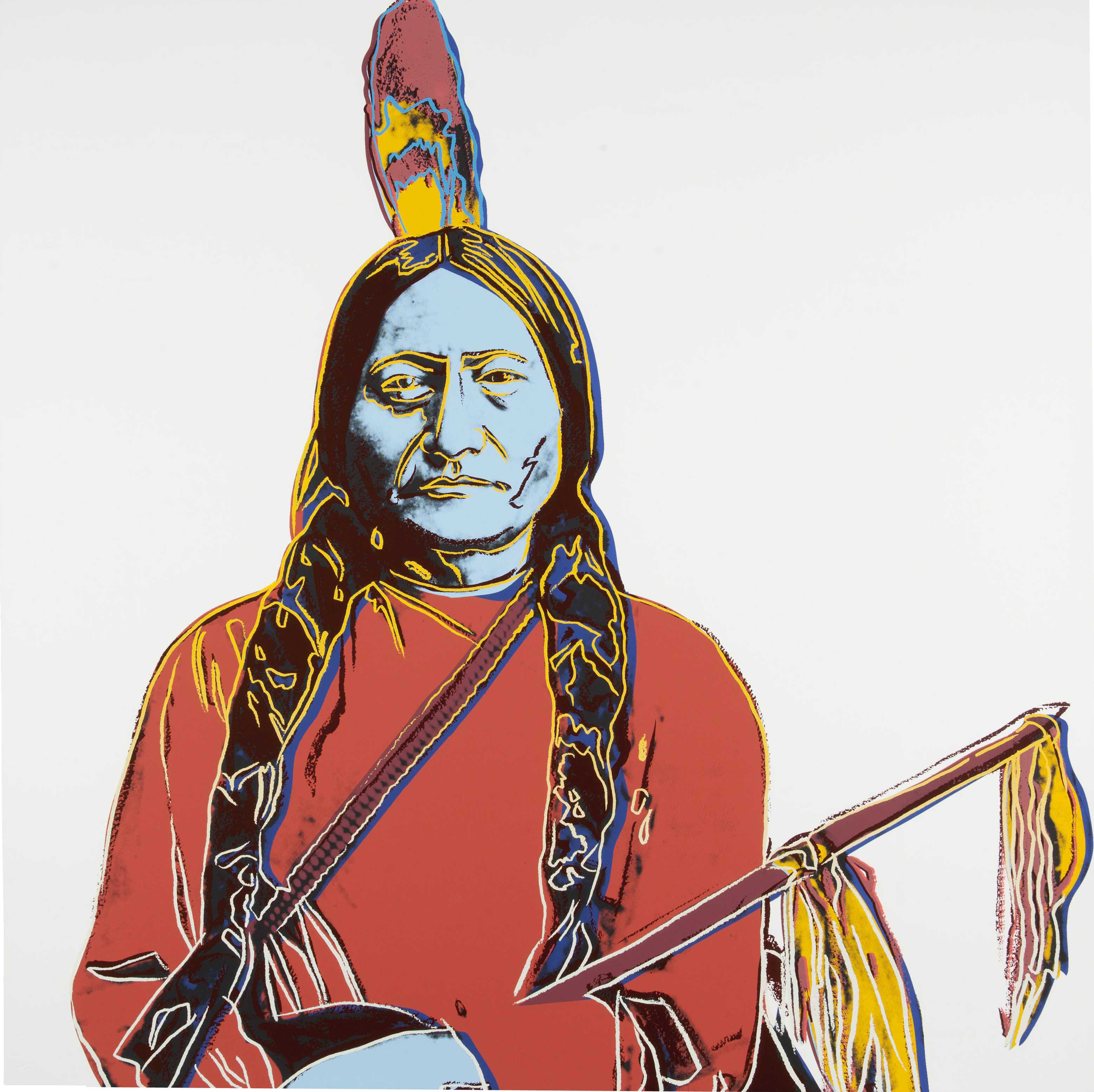 ANDY WARHOL, Sitting Bull, 1986. Screenprint, 36 x 36 inches. Gift of the Andy Warhol Foundation for the Visual Arts, Inc. Baruch College Collection.
For example, we have Andy Warhol's silkscreen of Sitting Bull, a Hunkpapa Lakota leader who led his during years of resistance in the late 1800s. Sitting Bull was in fact killed in 1890 at Standing People Rock which is extremely pertinent to today's politics around land rights and the environment.
It reminds us that indigenous tribes have been fighting for their rights in the same exact place for over a hundred of years. When the previous director collected this work several years prior, I wonder if it symbolised a different meaning to her and the public?
Another item on my agenda is to digitize all the previous exhibition catalogues and put them online so that they are freely accessible beyond the physical walls of the gallery. The collection is part of the gallery's history. The Mishkin Gallery was one of the first institutional galleries to show works by Beverly Buchanan, Milt Hilton, even Romare Bearden and many other important African American artists. That's something I was really excited to learn in my first few days. Of course there are several works I find problematic and sexist as well. An erasure of history is potential for huge danger and loss, so we must keep reminding ourselves of the things that came before.
Alaina Claire Feldman is Director of the Mishkin Gallery. She was previously Director of Exhibitions at Independent Curators International (ICI) where she curated the exhibition 'The Ocean After Nature' and co-curated 'Publishing Against the Grain', as well as produced and managed international traveling exhibitions with guest curators from around the world.
© 2020 sand magazine and the author