The Future Starts Here at the V&A questions our obsession with technology

Curated by Mariana Pestana and Rory Hyde
Interview with Mariana Pestana
Interview, 30 May 2018
The design of The Future Starts Here at Victoria & Albert Museum in London reveals a somewhat dystopian outlook – ironically bright colour palettes, large signs warning citizens of the impending gloom.

In each section, innovations from small to large corporations are on display. These objects of protest and inquiry represent ideas surrounding public good, authority and power. On the surface, the showcase seems to celebrate technology and the rise of smart cities. What 'The Future Starts Here' is, in fact, an invitation to analyse our current environment and think about the direction we might be moving towards.

Co-Curator Mariana Pestana speaks of the current technological world as a 'time of change'. In this interview, she shares her curatorial process of bringing up the complications of the digital world and socio-political state of nations around the world. She also discussed Miranda July's curious installation that reflects on how devices implicate the everyday life.


Your work is largely moved by architecture and fiction. How do these two elements form the way you work and the exhibitions that you curate?
I'm interested in creating spaces that allow people to reflect about the world as it is, and imagine alternatives to how it could be on another hand. This has formed my interest in three dimensional spaces as a means to enact fiction, where people can experience things together. The Future Starts Here is divided into four dioramas. Each of these sets are presented as an exaggeration of the current times we live in.
We saturated the space with many objects, and with the help of architecture, created this illusion that all of these objects exist together. Many of them have existed in specific places – such as research labs, design studios and universities. We were interested in asking – what would happen if they became widespread? What happens when you place these objects together and form a new reality or context?
Architecture, in this case, was crucial in creating scenarios to allow the viewer to walk through the objects and innovations and question the possibilities. I'm fascinated by the idea of living in three dimensional fictions. That perhaps also stems from my background in architecture, and so I see exhibitions, events and temporary constructions as opportunities to create speculative worlds.
What were your main considerations when curating the show?

The exhibition and sequence of what you see has to do with scale. I was fascinated by two things – the first being that the most most radical field of design seemed to be happening on the tiniest scale such as DNA sequencing and data editing. Then, you have the larger end of the scale involving 3D printed objects in space, or Facebook's Aquila. These are projects initiated with the desire to populate the skies. I was drawn to how developments seem to aim towards these extreme scales. I was neither interested in technology as an entity nor how each of the technological objects functioned but more of their ability to change people.
How does technology shape us in various scales? That's why the exhibition is divided into three main sections. The first is built like a house, and in it determines how technology shapes you as an individual. How does technology change your body and your very understanding of what a human being is? How does it transform your private environment ('a home') into a different entity? How do household objects and machines make your home 'smarter' and create the illusion of care for you? The second act is the public square. It questions how technology shapes you as a citizen. How does technology change how you vote, the decisions you make, and how you relate to groups of people?
We also discuss the organisation of cities, and the new global condition that's being connected by the Internet.

 The third act involves how technology shapes us as a species. We manipulated the architecture to mimic the sections of our planet – from underwater to the skies. This is also where projects that deal with climate change, and exploration of resources in other planets are situated. Overall, The Future Starts Here represents how technology transforms the self, public and the planet – which is further enhanced by the design and architecture of the exhibition.
Were globalisation and liberalism important considerations in your curatorial process?


Definitely. We live in a very specific time, at least where the UK is situated. It seems like the democratic models that we are used to having are no longer serving us well. I've looked into it via research – how opinions are so divided, the decline in voting and democratic confidence in the US and across Europe…
Politically, it's an interesting moment where people can't fully predict what the future will bring. If you look at global shifts in time frames – it has been 10 years since the economic crisis in 2008, 5 years since Edward Snowden leaked classified information, and over a year since the American election and Brexit.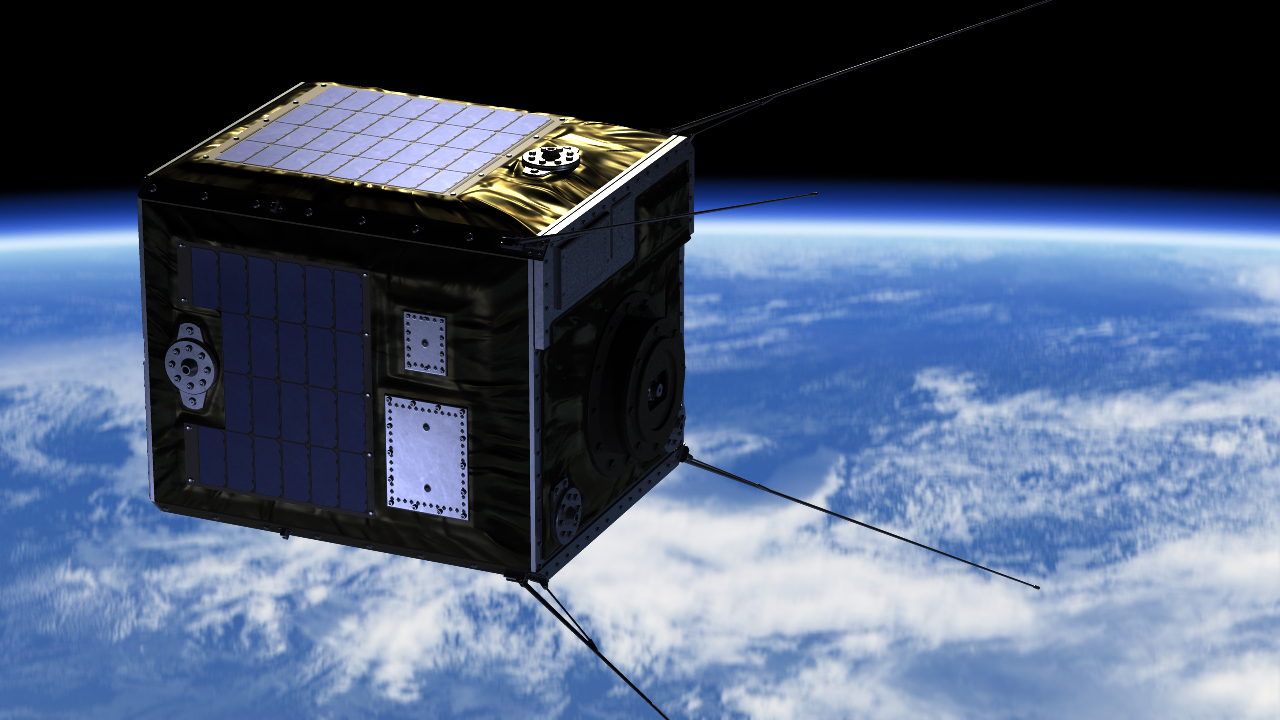 Shooting Stars project,
Ale and Co Ltd, 2016. © ALE Co. Ltd
It's a time of change, which explains why there's some anxiety towards the future. At the same time, the digital revolution has seen technological developments happening at an incredible rate that makes it difficult to keep track.
The first generation of people who're born into the digital world are now becoming adults, so we're really undergoing a transformation. The global condition of the Internet has allowed technology to become democratised across all fields from DNA sequencing to 3D printing. That means it's important to also reflect about the developments of technology, and the effect that it has on us as citizens.
I won't deny that the show holds a certain perspective, which is inevitable, because we the curators are also people. That said, we're thinking of touring the exhibition with other venues that will hopefully bring in their own opinions on the technological state we're in.
One of the works, Protei by Caesar Jung-Harada introduces an environmental perspective to technological implications.

Yes, the exhibition holds a number of context and notions that are urgent to engage with. With
Protei
, we're witnessing a new ecological era. The technology that we're producing and optimistically endorsing have inevitable consequences, which we're already beginning to understand with our so-called 'progress'.
Protei, autonomous sailing ship that cleans up oil spills, Scoutbots LTD,
Cesar Jung-Harada, 2014
As we are developing so quickly and unconsciously, researchers are starting to think about how we can make more intelligent and resourceful designs to counteract climate change and the effects of oil spills, for example. We're not only dealing with environmental struggles here. On top of pollution, we're also seeing economical impacts and global migration. These analyses encourage critical consciousness of how technology can affect our planet.
I'm looking at one of the commissioned installations, I'm The President, Baby by filmmaker, writer and artist Miranda July. What does this say about our state of surveillance?

When I think about the development of technology, I also consider our emotional connection to the objects that make our 'smart homes'. When you look at products such as a thermostat, you'll realise that they only serve to perform to our needs. On one hand, these products are in a way accessing our information.
With Miranda July's previous works, I really enjoyed some of the moments in her films where she had portrayed technology in a very emotional way. Like when this couple were sitting across each other on the sofa, each looking at their mobile phones. Or her app ('
Somebody
') that she developed with Miu Miu.
We're talking about someone who's intrigued by the emotional sides of how technology essentially takes up our life. I think Miranda July possesses an amazing capacity to observe and shine visibility to these banal details of the everyday life.
I thought it would be interesting to commission her to make a work in response to technology and her emotions attached to it. So she installed four smart curtains that track the activities of her friend, Oumarou Idrissa. A young man from Niger who works as an Uber driver in Los Angeles, Idrissa suffers from insomnia as a result of psychological fears. In the installation, each time Irissa wakes up in the middle of the night and WhatsApps his family in Niger, taps Uber, or uses Instagram, one of the curtains opens or closes.
It's interesting to see her bring performance into a theme that's otherwise seen as 'robotic'.

Yes, and there's a certain magic, I suppose. This is something we talked about — you know, when you're talking to someone who is really far away but magically you're in contact as a result of technology. She wanted to capture this very strange thing of being apart and together at the same time, which she did through these curtains.
I'm The President, Baby,
Miranda July

The idea of the curtains is associated with Somewhere in Time (1980) – the film captures the essence of how the protagonist lives through different times, yet the characters are somehow able to feel the presence of one another.


I think what you're dealing with is something that's very scientific and research-enabled, which can be difficult to understand or access at times. Do you think that involving storytelling like what Miranda July did contributes to greater public understanding of such issues and concerns?



Yes. I'm The President, Baby uses technology as a storytelling device – how can you tell a story using a technology that defies its original function? I'm all about showcasing works that have transformative effects on its visitors.

How can you go though a three dimensional experience and come out of it somewhat touched by what you've seen? In this exhibition, moments are created by integrating objects into specific design scenarios that encourage a person to live through different possibilities.


Finally, do you see exhibitions like The Future Starts Here as a pathway to more effective public education? What else can be done by organisations and institutions to better allow citizens to recognise the importance of these changes, and become more motivated to act?


I'd like to think of museums as civic spaces where we can discuss happenings of the world. What are the big changes that we should be aware of as citizens?

 For me, it's crucial to bring contemporary thinking to museums so that we can collectively think about the subjects that are shaping our world right now, and the forces that are forming our future. I think it's important to do that with a certain optimism. I was recently reading Rebecca Solnit's 'Hope in the Dark' and in it she brought up a proverb, "Critical thinking without hope is cynicism. Hope without critical thinking is naïveté."


Technology in Bed,
Hanif Shoaei, 2014. Courtesy of Hanif Shoaei

In conversations about the future, there has been a tendency to present it in a very dark light – critical thinking with no optimism. I would say that's the tone of popular works such as Black Mirror. I'm not sure how helpful that is, though. I think that cynicism somehow blocks us from imagining other possibilities. Similarly, being optimistic for the sake of it doesn't make any sense. I think it's important to strike these balances.

There are certain parts of the exhibition that would make the viewer think that change is implausible. Now, if enough of us get behind these ideas, we can really contribute to that change and it's true – history has proven it.

Mariana Pestana is an architect and curator, living and working between London and Lisbon. Her work is informed by an interest in architecture and fiction. She makes exhibitions and installations that enact fictional scenarios and programmes so that many people can experience them together. She is also the co-founder of The Decorators, with whom she developed curatorial and research projects through interventions in the public realm.



© 2020 sand magazine and the author