Shaping Geographies: Art, Woman, Southeast Asia at Gajah Gallery
Interview,
7 January 2020
Shaping Geographies was an exhibition reflecting upon gendered perspectives around spaces. These could be naturally or socially-constructed — the works were guided by the intersections and complex geometries of people, places and histories. Such questioning encouraged participants to seek access on how these networks could affect and concern one another in diverse ways.

In this interview, curators Dr. Michelle Antoinette and Dr. Wulan Dirgantoro explain the idea of intimate geographies and visible identities in the context of their exhibition. Specific works were highlighted as documentation of what was displayed within Gajah Gallery. This discussion is a reminder that pressures of the world continue to weigh on the backs of researchers and arts practitioners, which explains why responding and making space for new observations and narratives of our external surroundings remain necessary.

ANIDA YOEU ALI, White Mother #1, 2014. Concourse, Digital Inkjet Print on Archive Paper, 112.5cmx75cm.
It is said that there is a growing number of active female artists in the Southeast Asian region, and the show aimed to bring together their diverse practices through key intersections and tensions of the three terms – 'Art', 'Woman' and 'Southeast Asia'.

As curators, what connections did you hope to form between these three categories and aspects?


Dr. Michelle Antoinette & Dr. Wulan Dirgantoro: 'Art', 'Woman', and 'Southeast Asia' are very much connected terms and categories. There is a history of Southeast Asian women's art practices that registers this connection. Our curatorial approach acknowledges this history alongside the significance of prior exhibitions focusing on Southeast Asian contemporary women artists In curating our exhibition on women artists from Southeast Asia, we began inquiring critically into these terms to understand their particular resonances now.

In thinking about Southeast Asia, our curatorial objectives paid attention to what is unique about the region. We did not want to limit our investigations. We also wanted to be open to how Southeast Asian art and artists relate to other kinds of geographies or maps of connection and belonging, including those that aren't strictly or literally geographical. Also, we recognize that there are different geographies of experience on the supra- and sub-national levels as well as ones that overflow beyond the accepted borders of Southeast Asia. For contemporary artists, this can enable productive alternative spaces of imagination and transformation.

Similarly in focusing on the category of 'women' artists, the exhibition does not presume that art made by women is a vehicle for some kind of essential or eternal womanness, nor is there any obvious, literal or uniform relationship between the sex of the maker and the work produced. Shaping Geographies instead suggests that works of art by women artists offers the potential to materialise female subjectivity of all kinds. Further, we invited the artists in this exhibition to respond, explore, and also, to challenge traditional notions of space, place and environment, as shaped and framed by their position as women.

In particular, we invited the artists to pursue the feminist proposal of 'intimate' geographies – a way of understanding the region through notions of proximities and the personal – often overlooked as a result of dominant patriarchal frameworks that instead tend to inform our knowledge of the world by meta-narratives or meta-categories of human experience.

Why was it important to you that the political, cultural and social arena should be discussed?


Dr. MA & Dr. WD: The political, cultural and social cannot be separated from the experiences of artists. These arenas are influential in shaping the kinds of artworks produced by contemporary artists. Some of the artworks selected for this exhibition highlight the political, cultural and social arenas in very obvious ways. From critical reflections of women's significant contributions in history, to the effects of climate change, as well as cross-cultural experiences, and foregrounding connections with community, among other issues.

These issues are, in fact, central to the artworks and to the artists' practices. While these issues bear specific resonances in Southeast Asia, as we know, many of these issues are also part of bigger conversations around the world. What we see here is how contemporary artists who are women are interested to explore the political, cultural and social problems of our age – such as climate change, and what can be done about this.

In so doing, they are often referring to other women's thinking and practices as a counter to patriarchal thinking and structures that are argued to have led to some of our current day problems.

How did you communicate your curatorial and exhibition objectives to the artists involved while ensuring that they could come to their own interpretations of what it means for the female identity to be intersectional?

Were there any particular challenges in terms of understanding ways in which the works and narratives would sit in the context of this exhibition, or particularly in Singapore where the exhibition is put up?

Dr. MA & Dr. WD: In conceptualising the exhibition, we considered artworks and/or art practices that broadly resonated with our curatorial objectives. We were also quite clear from the very beginning that this project was going to be undertaken in a collaborative spirit. In doing so, we opened ourselves to dialogue and conversation with the artists about our curatorial and exhibition objectives while ensuring that they maintained autonomy in their creative processes.

Further, as part of communicating our curatorial and exhibition objectives, we felt it was important to convey a set of questions to the artists which we were asking ourselves as curators for this exhibition. We think this method of suggesting questions rather than answers helped to bring about a balance between our curatorial motivations and inviting the artists' own interpretations. This was useful for communicating our larger interest to foreground the complexity of female identity in this exhibition, as well as conveying our openness to the artists regarding how this complexity of female identity might play out in their artworks.

Some of these questions were: "Within the larger geographic frame of Southeast Asia, how do we acknowledge the particular cultural basis which informs the contemporary art practice of individual Southeast Asian women artists, with their differentiated connections to Southeast Asian cultures?", "How can we create flexible curatorial imaginaries that help shed light on the specific contributions of women artists which are at the same time not beholden to or over-determined by the categorisation 'women artists'?", and, "How can we engage these art practices on their individual affective and aesthetic terms, and to allow art itself to generate new imaginaries?"

By coincidence, many of the artists that we contacted were already thinking or working on projects that resonated with our objectives. So the exhibition process flowed naturally. Moreover, the whole process was a three-way dialogue between us as curators with the artists, and also Gajah Gallery as the facilitator of the exhibition.

The countries where all the artists are from have seen a great female uprising in recent years.Were the regional spotlights an intentional focus? What about the identities of these artists and places did you find particularly fitting to your curatorial angle for the exhibition?
Dr. MA & Dr. WD:
There was certainly an intention on our part to highlight the strength of female identities across the region. In the art world, different female identities have become increasingly visible as the number of Southeast Asian women artists continues to grow.
Previously overlooked histories of women's art practices in Southeast Asia have become a strengthening focus for scholarship and art museum collections and exhibitions. Significantly, compared to the 1980s and 1990s, it is now more common for women in Southeast Asia to work as full-time professional artists.
Whether this growth has a direct influence on the new tendencies we see in women's art practices is unclear but what is noticeable in works in this exhibition is perhaps less of a focus on issues of self-identity that was a common theme in women's art practices of the 1980s and 1990s (such as the late IGAK Murniasih's works included in our exhibition) to a more wide-ranging set of topics in art by women.
KAYLEIGH GOH,
What We Are Seeking To Be,
2019. Installation view at Gajah Gallery.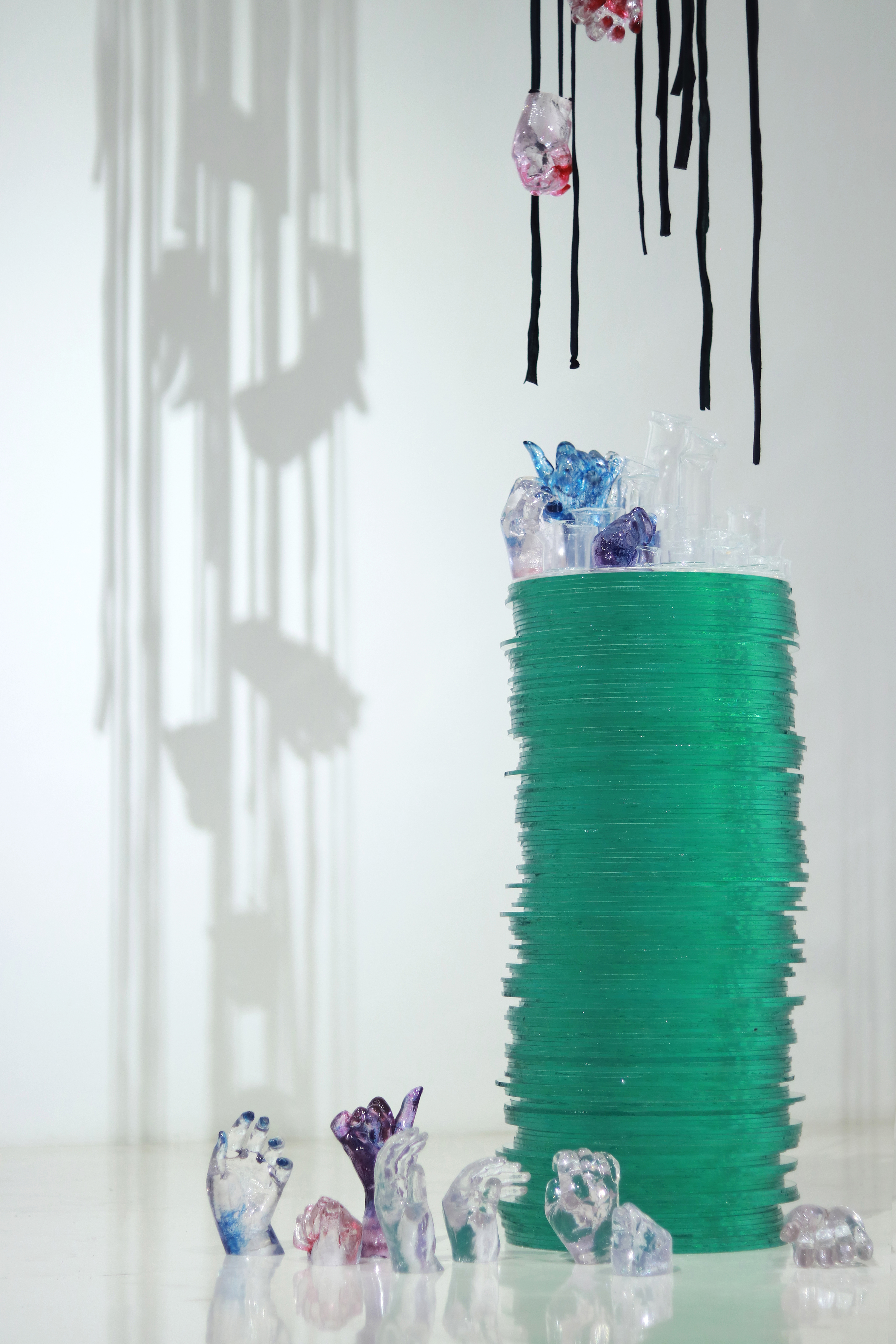 FIKA RIA SANTIKA,
Tumpuk Lapis Tampak Isi
, 2019. Installation view at Gajah Gallery.
For instance, the influence of architectural environments on human emotion in the case of Kayleigh Goh's work, or reflections on Minang culture and environment in Fika Ria Santika's work. Alongside this issue is also a general interest from individual to collaborative or community-based practices, as seen in works by Savanhdary Vongpoothorn, Yee I-Lann, Muslimah Collective, and even Suzann Victor and Geraldine Javier's new works were generated from collaboration and collective work.
KEETA ISRAN (MUSLIMAH),
The Area of Muslimah,
2019. Graphite on mulberry paper, 28.5 x 28.5cm.
Furthermore, as women are finding their voices and strengthening their networks, they are also reminding us that the political is inextricably tied with the personal. Some artists actively use their art practice to reflect socio-political issues and effect changes within their community such as the works by Geradline Javier, Muslimah Collective, and Yee I-Lann's collaboration with women weavers in Sabah highlights womens' collective creativity and labour.
Meanwhile, works by Tintin Wulia, Anida Yoeu Ali, and Suzann Victor point to the effect of the political in shaping the bodies and personal lives of women, and the ongoing transgenerational effects of this. As part of their works, Nguyễn Trinh Thi and Suzann Victor direct us towards reflecting on the effect of official histories in eliding women's perspectives in the making of modern Southeast Asia.
How did your observations of natural and socially-constructed spaces contribute to the gender identity perspectives you hoped to address through Shaping Geographies?

Dr. MA & Dr. WD:
Women have always been active participants in various cultural and civic spaces around the world. Nonetheless, patriarchal thinking and structures have often precluded, hindered or undermined their involvement. At the same time, women have always shown remarkable strength and resilience in overcoming these problems, whether through their political agency, creative practices or in the case of
Shaping Geographies
, a potent mixture of both.
We were inspired by the latter as we formulated our curatorial objectives. As mentioned, we were interested to pursue the idea of 'intimate geographies' as a way of understanding the region through proximities and the personal. We invited the artists in this exhibition to respond, explore, and to challenge traditional notions of space, place and environment, as shaped and framed by their positions. In this regard, a number of the artworks in the exhibition are engaging with natural and/or socially-constructed spaces through the intersection between geography and intimacy.
ANIDA YOEU ALI,
White Mother,
2019. Installation view at Gajah Gallery.
The exhibition encourages us to look, closely and intimately, at the myriad natural and socially-constructed shapes and patterns that make up life. It explores the intersecting lines, grids, circles, trajectories and complex geometries of places, people, spaces, histories, memories, energies, forces and affects; and how theses entangle and disentangle with each other, to build networks, cities, neighbours, regions and worlds – from a gendered perspective.
In the exhibition, we can see that what we perceive as something that is perhaps intimately personal to the artists, in fact, helps to unpack the notion of intimacy itself. The term is no longer limited to dimensions of life taking place at close quarters, spatially and socially.
NGUYEN TRINH THI,
Eleven Men,
2019. Single-channel installation, Sound, 28 minutes, Film still.
Rather, the intimate constitutes a powerful framework for rethinking and challenging the larger political ideologies and regulatory forces that govern contemporary social subjects and social bodies in the public sphere.
In the case of the exhibition, artists use the framework of the intimate to illuminate women's significant place in history and the present. In an artistic sense, we can also look at how artists might employ 'intimate' methodologies for their creative practice. For instance, Nguyễn Trinh Thi's film Eleven Men employs close-ups of the popular Vietnamese actress, Như Quỳnh, to redress the elided topic of women's subjectivity and desire, Savanhdary Vongpoothorn and her collaborator Noriko Tanaka looked closely at overlooked patterns adorning the footsteps to the Nigatsu-do temple in Japan linked to Buddhist scriptures, Suzann Victor developed a close working relationship with her friend to help reveal continuing traumatic histories stemming from her friend's grandmother's experience as a so-called 'comfort woman', Yee-Lann and Geraldine Javier worked closely with their local communities to create their works, and in their works Anida Youe Ali and Tintin Wulia explore the significance of women's bodies in the public sphere.
Today, more spaces and opportunities have opened up for artistic interpretations of the external social world. It seems more important than ever that art and creative work should speak to social, cultural and political conditions.

Do you face increased pressure to address growing and pressing concerns related to your interests and, at the same time, engage artists and audiences in these discourse?


Dr. MA & Dr. WD:
As curators and researchers, we share and face similar, if not the same concerns as many artists, activists, cultural practitioners and others about shared issues such as the strengthening of populism in the region, neoliberal thinking and the state of our planet.
When we work on our respective research projects as historians of modern and contemporary Southeast Asian art, we are not divorced from these real-world issues and it is important to us that there is possibility in art to address these topics where artists, curators and researchers feel compelled to do so.

l
eft: FIKA RIA SANTIKA,
Tumpuk Lapis Tampak Isi Sibir 2,
2019. Installation view at Gajah Gallery. right: YEE I-LANN,
L O U V R E,
2019. Installation view at Gajah Gallery.
Collaboration might be one strategy or way of engagement that we think could be helpful to working through the pressures you speak of. After all, the social, cultural and political are realms affecting 'the commons' or whole communities. As co-curators, it has been valuable to explore ideas together, bounce ideas off each other, and in the process enrich our parallel individual work.
In a sense,
Shaping Geographies
presented an opportunity for us to do research together of a different kind – a type of practice-led research where research is undertaken in the process of curating an exhibition, and where the exhibition itself might be considered a product of our collaborative research. The opportunity to explore collaborative methods of thinking, researching, managing the project, and writing has been invaluable.
Moreover, we regarded the participating artists as our further collaborators on the exhibition. There are different synergies of collaboration existing that are important to us and which informed our curatorial methodology and our thinking about the social, cultural and political conditions affecting Southeast Asia, and affecting the artists and the art included in the exhibition.
There are no surefire strategies to cope with the pressures associated with conveying social, cultural and political issues in creative or intellectual work. In fact, challenges and tension can be invigorating and are often necessary for our intellectual trajectories. In this regard, these pressures can push us further to think and act more ethically, creatively and compassionately towards others whether through exhibitions, writings or other forms of intellectual and creative pursuits.
Shaping Geographies: Art | Woman | Southeast Asia runs at Gajah Gallery (Singapore), November 22, 2019 – January 12, 2020.
© 2020 sand magazine and the authors