Pure Ever Navigates Alternative Realities in our Digital World
Interview, 28 February 2020

Presentations by PURE EVER tend to function around social realities through technological interpretations – their most recent work being a party held at artist Fyerool Darma's residency studio in Gillman Barracks, Singapore where audience members enjoyed a virtual-physical sound and movement performance (the latter displayed through Skype).

Initially named 'Temp Group' by five organising members, the arts collective first surfaced in October 2019. The exhibition, PURE EVER, introduced itself as an investigation into virtual inseparability and social agencies in a digital world. By now, technological discourse in art has been overpopulated with obvious identifiers such as artificial intelligence, virtual and augmented reality. In an environment where design and technology are continuously seen as an appeal, PURE EVER placed the emphasis on devices aside. The works displayed various investigations of intimacy yet without fixating on technology as a medium.

The Internet, with its contentious role as a free or democratic space, has become an enabler of control, surveillance and capitalism for state agencies and corporations. The exhibition seemed to navigate our attention towards personal relationships and power driven by technology as a behavioural or philosophical language instead of a tool. In these various works, it is also presented as an effect, outcome or confounding factor of our response towards literature, politics and the social environment.
What were the initial motivations for PURE EVER, and what were some personal and collective demands while designing the idea/concept, getting the artists and their works and the physical experience of the exhibition? Did you notice a shift or extension in objectives of the show as the process developed?

Rifqi Amirul (RA): We wanted to look closer at the idea of intimacy and technology beyond electronics and circuitry. Language as technology, spirituality as technology, and so on. The technologies of our interest established a form of intimacy with ourselves, others and what's around. We also wanted to involve artists from different backgrounds and encompass a wider scope of art.

Most of the artists were fresh grads, with some who didn't originate from fine art backgrounds. Those works definitely required more than a graduation show. We also wanted to involve people from other creative fields to look at this in their own lens.

Elsa Wong (EW): I was interested in how different practices would approach the freedom of a speculative motivation.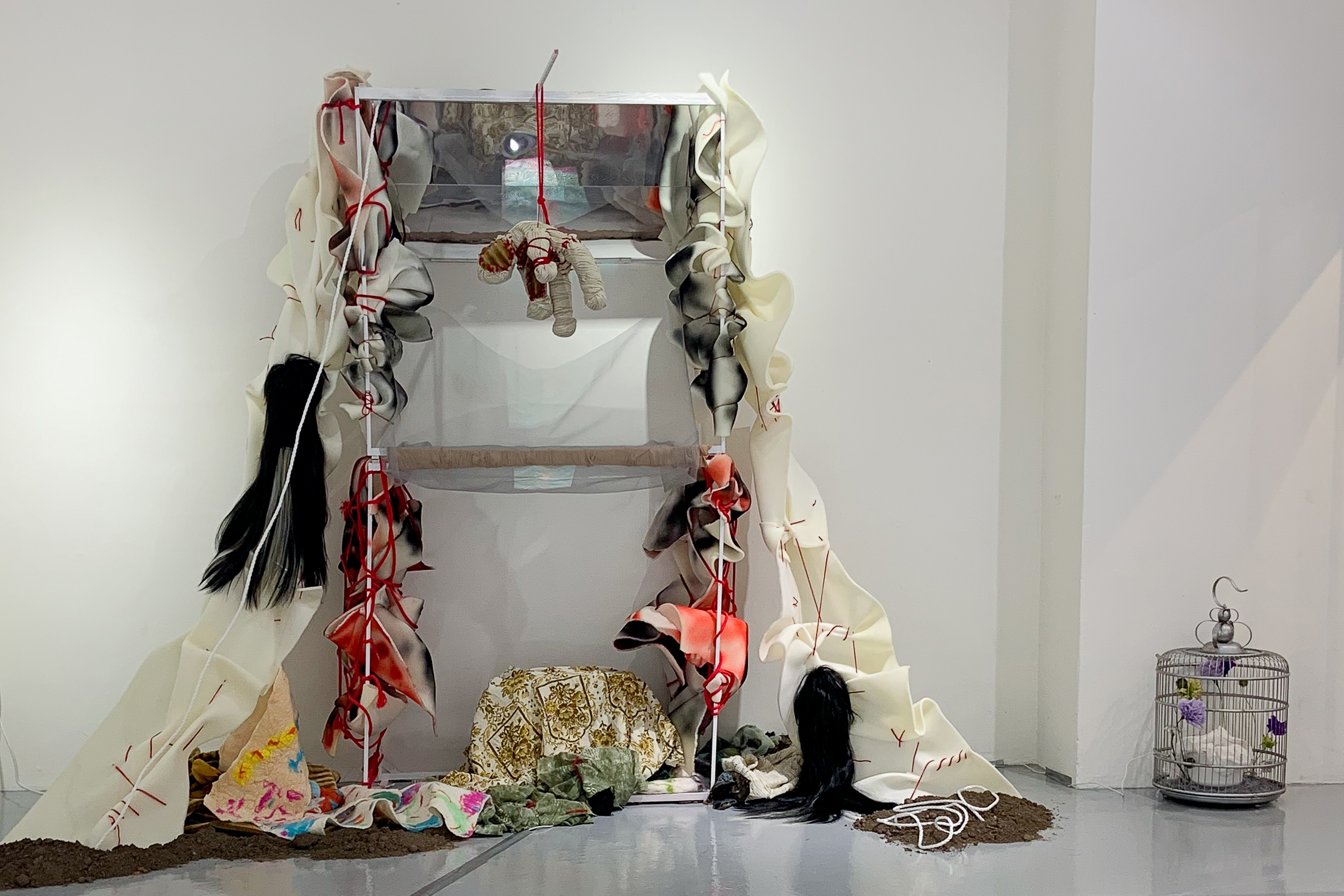 ELSA WONG,
MASS destruction
, 2019. Installation display with video projection, mixed medium, dimensions variable.
HILARY YEO (HY)
: Initial motivations were born out of the desire to address a techno-determined world in more ways than we might currently understand – departing from screens, wires and so on – as well as in ways that we are far more intimate with. We touch screens, keys and things all day. A smartphone user may touch their phone up to 5000 times or more in a day. Yet, these devices are only designed with 50% of users in mind, and most women don't notice how their smartphones don't really fit too nicely in their hands. Then think about how often we actually fucking touch one another – the numbers are incredibly depressing. We are far more intimate with machines than we are with people.
I think the vision of the future world has been so heavily co-opted by the utopic or dystopic narrative. It definitely poses the challenge of whether what we are doing here, and our objectives, would make any real dent in how people perceive. After seeing what everyone has done in this exhibition, it is clear that all the artists had really taken their own experiences not only with their technological realities but also with the more intimate parts of themselves. They posited these things into the larger, wider narrative of trying to build a world where we're perhaps imagined to be the centre of it.
AN(Z), Similar Filter, 2019. 3 Digital Prints on Elastic Fibre (140 x 140cm) and Zentai Dolls (160cm)

I don't think that the first PURE EVER exhibition was ever really about technology or art, but more about how, through the use of imagination and speculation, alternative and more self-involved motivations to being may arise. We are so deeply entrenched in a largely non-human and technological society that persistently fails to consider all of this.
RAIGO LAW (RL)
: It boils down to the idea of 'intimacy' and how it can be further speculated and discussed with the intersection of technology, where we start branching to questions and topics of self-love, teen romance, adult-toys and movies; the relationship between an anime (2D) character and an otaku (hardcore anime fan).
When working with the artists, we were interested in creating conversations based on their perceptions towards 'pureness', 'love' and allowing them the total freedom of art-making. Hence, not setting any sort of curatorial standards or specific aesthetics in the show.
ZHIYI CAO (ZC)
: The desire for a kind of purity (in an admittedly more 'interconnected' world) arose from a collective aesthetic vision for a brightness that can be extended indefinitely over time, yet highly contemporary at this point. We were looking at a lot of kaomojis at one point. These are Japanese emoticons written vertically with signs and symbols simulating faces of various expressions. We were interested in how this symbol-language has become a new mode of expression and what that means in a tech-drenched world. We have witnessed kaomojis being used extensively as a form of stylisation in collaterals (more often than not as adjunct), but what happens if we choose to depart from this point, what happens when style becomes substance or form?
At first glance, one may see PURE EVER solely as an exhibition about the outcomes of intimacy and personal experiences in a technological world. Yet, it also felt like a space for layered conversations and explorations to take place. Was it particularly important to take on a topic of relevance to the external social world while keeping the space open for participants and audiences to experiment with narratives?
HY
: Yes. It was important for us to provide visibility for undermined and sidelined stories (overrun by narrative of tech giants like Facebook, Google and the utopianism Elon Musk's SpaceX) and highlight the capabilities of artists of any calibre to produce work that invokes a deeper interrogation of the usually unheard of experiences, whether it is to tech or otherwise.
Another point we wanted to bring into discussion is the fact that when you think about the creation of technology, it most certainly involves huge amounts of money, resources and the involvement of large corporations or governments in order to mobilise – things people like you and I don't necessarily have access to. Which then leads to technology being fabricated that are more skewed towards the image and interests of a set group of people.
Again, it is so crazy to think that phones don't sit properly in the hands of women, even though it is something that we all use. So, therein lies one of the layers of exploration – what tech might look and feel like if the issues of money, resources, or access to power were eliminated. Can you imagine it?
One of the aims of the exhibition, it seemed, was examining intimacy under the lens of personal perceptions and socio-political realities that have been shaped by the 'non-human and machine'. Between everyone involved, what relations were formed or attached to the interactions with technological elements and the reliance or influence from the virtual world?

HY
: I don't want to delve too deep into theory but Haraway's
A Cyborg Manifesto
was always, for me, the epitome of how I see my interactions and influences on the realities of the non-human/machine and human – as a kind of chimera, almost inseparable yet still distinguishable between them.
I don't have a completely dystopian or negative view of it, like it's going to destroy us all or something. There is optimism. To me, one of the greatest technologies ever invented is the female birth control. Most wouldn't consider birth control as a type of technology, simply because it doesn't have wires or a motor that emits some kind of masculinised output like electricity, light or sound. What it has done is completely alter the way in which women are able to navigate the social world and provided a sort of agency for how women perceive and conceive their bodies and in their bodies.
DENISE YAP, Second Hand Smoke, 2019. Multiple Digital Prints, editions 5 + 1 ap

Surely, these are the kinds of technology the world should be paying more attention to, and should be putting more energy into developing, rather than things like Alexa or Siri, that simply fuel another kind of patriarchal dream under capitalism – only serving to fulfil yet another completely overstated and grandiose wet dream of a future world.
I guess this relates to how I had hoped that my sensibilities would translate to the set up of PURE EVER – that is that it can possess Haraway-like chimeric qualities interlacing between that of the 'virtual' and the 'real', while simultaneously not allowing for the indulging of social oppression as a constant reiteration for the production of art.
Aggression and intimacy tends to be seen as being two sides of the same coin. The existence of aggression may be observed in the virtual and technological world such as porn, cyber attacks, hacking, artificial intelligence and more. Was that ever a consideration?

ZC
: There is definitely violence in the aestheticisation of technology – something all of us are familiar and all too complicit with. It comes hand in hand with the closeness we feel to it. Not to be mistaken with violence being absent in indifference but it does take on a particularly brutal form when the connection is real.
One thing we spoke about a lot when thinking through the show is the role of speculative narratives in helping us situate our relationship with technologies of the past, present and future. Speculation (in all its interpretations and philosophical traditions) tends to make one embody two states simultaneously – extreme (sometimes irrational) empathy and distanced objectivity. The struggle to mediate these extreme ends often produces violence.
That said, while our curatorial discussion of violence exists within these abstract frameworks, some of the works perhaps delve into more material manifestations of violence:
Tiongxim Is a Lie
and
Hongster Never Dies
, by the collective Of Memz, force us to confront the eye-gression of the artist, where the heartfelt heartbreak rant of teenager Weilee becomes spliced and reintroduced with segments of 'flooding on orchard road', 'boy gives bgr (boy-girl relationship) advice on bigolive', 'the tossing of ofo bikes down a HBD block' and 'aaron tan'.
OF MEMZ,
Tiongxim is a lie, Hongster never die I, II
, 2019. Mixed Media on Canvas, 91 x 91cm
How do we reassess this new franken-collaged information, made possible by video-sharing and citizen journalism sites, where the emotional turmoil over a zharbo becomes redistributed socially and adequately takes on new meanings, and should we do it through the so-called objective lens of the anthro-artists, also avid students of the human condition? The potentially violent gaze (of the artist) thus comes to the foreground – yet at the same time, which artist spends hundreds of hours working on footage/material they feel no affection for?
RA
: One of my works in the show,
Nite Flite
also dealt with a certain form of aggression and violence, but explored through the speculative idea of flight or ascension through different histories of time –past, present, future.
RIFQI AMIRUL ROSLI,
Nite Flite I, II
, 2019. Digital print on Synthetic paper, vinyl stickers, 110 x 190cm

The work explains how the product of belief has led to speculative ways to fly. One of the mythical Islamic histories talks about a winged-horse that the holy prophet flew to the heavens overnight which had led to a major event in the Islamic Calendar (but that's not violent i suppose). Another history I was looking at – the Heaven's Gate cult who garnered a massive following through a belief that taking a suicide would release their soulds to a heavenly spaceship. It was a mass suicide, and I think that period of the milennium also had many funky cults.

The work relates to how the idea of belief can be heightened spiritually to give hope but also sometimes to weaponise and do harm – especially in the era of pseudo-information, deep fakes and fake news.

Another example is also Raigo's work Closer — Aiko Chan, which looks into the world of 'Hikikomori' that refer to reclusive youths and adults who withdraw from society and seek extreme degrees of isolation and confinement. In his piece, he draws attention to the virtual companion of an anime character (usually female characters) and how Hikikomoris have an obsessive nature towards them.


RAIGO LAW,
Closer — Aiko Chan
, 2019. Print on Fabric (Chiffon), Assorted Figurines, Minerals, Plastic container, Vapour Machine, Lights, Chains, 120 x 120cm


Because of this virtual relationship, obsession usually leads to the objectification of women. It is interesting how virtual reality can really warp our ways of thinking – you even have games now that simulate actual violence that could potentially be triggering if not used with care.


The works presented were largely mixed media. Fabric was used in many of the works, including your exhibition merchandise. Did these artists share a similar closeness to fabric and textiles?


EW: The artists chose to adopt fabric and textile materials for both reasons – some were trained in utilising fabric mediums while some choose to use fabric in the theme of intimacy and closeness of bodies. They played with different forms in presenting their work, such as fabrics hung from hangers and soft fabric on the hard ground.

RL: Adding on to what Elsa said, this show involves collaborative efforts with designers. We have Annie Chung who is trained in fashion design and Sarah Hannan who is trained in graphic design and is currently working in a commercial graphic design firm. They believe that all forms of art and design coexist by acting as pedestals and platforms for conversations.


SARAH HANAN,
3scapaDe's
, 2019. Printed fabric, 150 x 200cm.

Annie and Sarah's fabric works were also heavily influenced by the idea of not conforming to textbook methods of design and presentation, in which they manipulated typefaces and placements or perhaps aesthetic-pleasing presentations into the unfamiliar and foreign.


Apart from showing works by emerging artists, what other features of their practices did you take particular interest in?


HY: Particularly their sensibilities to the world around them and the way in which they interact with the subject and objectives of the project. The hope was that they would bring together their personal experiences bridged with the potential of speculation in a sort of circular adjustment whereby each would inform the other, subsequently amplifying the contingent experiences situated within and around them.

RA: I think that's also the beauty of having a show with people from a creative spectrum. We have artists as designers, fine artists, artists as writers, and so on. As most of the works in the show were new works, they respond to them very differently. Also, for the collective, I think that Temp. Group is also a platform for these emerging creatives to come together and mash. Part of forming this collective also is to strive for a kind of fluidness, meaning the space to exhibit can evolve beyond an art exhibition. We made a party extension called Pure Ever After which included DJs from our friend circles.


How did the eventual outcome compare to the curatorial and programming objectives you had envisioned (while being wary not to fixate on one) for the entire exhibition?


ZC: We definitely hoped the exhibition would reflect a softer and more affective side of what we have been exposed to as the 'intersection between art and technology'. Even though the ostensible point of departure for the show was that of a VR baptism held by DJ Soto, we did not use VR as a medium in the show.

To us, it's not about mimicking the forms of what technology has brought to our psychological and spiritual lives but tackling the substances, questions and emotions that have arisen, often in more analog but familiar forms.


As the exhibition was founded on broad and complex explorations, what were some strategies implemented to ensure that the group narrative existing within the space made sense?


RA: The only consideration was how the dialogue within each work will counter and highlight the others. The space was a white cube and it was important to us to be as disruptive as the curatorial message that was intended. It was also activated when we set up our merchandise booth at the front, making it a semi-retail space. I think the whole idea is about trying to incorporate other methods of how the viewer may interact with the work, be it through wearable art or zines.

© 2020 sand magazine and the authors