Building Networks Through Shared Spaces & Ethics: Mediation, Publications, Cultural Work

by Jenson Gabriel Tan
Discussion, 14 December 2020
In my discussions with arts practitioners and cultural workers, I am interested in their perspectives on power structures while pursuing their practice. How do practitioners, in particular those of marginalised identities, claim spaces? How do artists find or generate mobility as they develop their practices? I am interested in learning how communities in the arts organise and interact. Previously, artist Chand Chandramohan (she/her) shared experiences around racialised spaces and classism.

Curious about how artists exercise their voices today, I regularly visit showcases of acquainted practitioners. These range from exhibitions, physical activations, workshops, talks, symposiums and performances. Although their works and research were often rigorous, it often felt like dialogues needed to happen beyond just the exhibition space. Later, I found that for some of them, forming relationships outside of art spaces helped to articulate their artistic priorities and develop works.
Thinking about how queer identities engage with the arts, I became interested in publications by Wong Binghao (they/them). These works derive from rigorous research practice and a study of queerness around the region. Wong's interests and practice are extremely layered, and to briefly summarise them all would be an oversimplification. Instead, I'm choosing to explore how they form relationships through research, writing and publications.
I first came across Wong's work through a
workshop presentation
for External Assessment Summer School and took well to the written mediation of ideas. The narratives were consolidated, edited and streamlined into publications, namely
nominal bliss
(2019) and
Indifferent Idols
(2018). The online, free to download format seems to function as a sustainable form of expression – reducing the time and cost of print production and selling while freeing up space to conceptualise, design and expand the work. It is interesting to think about such a focused way of working that offers more meaning in engaging with new audiences.
I began to understand their ways of facilitating dialogues with artists and practitioners in these publications. How do these relationships inform art-making? Crucially, Wong's publications unravel through experiences of identity. They often present artists' texts and scholarly writing of diverse individuals who seem to share similar ethical values towards politics, research and methods of working.
Download
Indifferent Idols
(2018) and
nominal bliss
(2019)
here
nominal bliss
(2019) and
Indifferent Idols
(2018) involve developing new research trajectories and networks around contemporary artists of non-binary and trans experience. Reading these publications, I gained a deeper understanding of their vision as an editor. The artistic texts allowed me to visualise works and processes in the publication, such as Victoria Sin's project (Indifferent Idols, 2018) that otherwise occasions the viewer's presence in a live performance. The emotions are highly visible through the text and layout. In the publication, Wong's text provided necessary context and description to the narrative of Sin's performance.
"[in nominal bliss] I wanted to think about the origins and complexity of transness, what makes it what it is, and its potential as a methodology to read a region like Southeast Asia."
— Wong Binghao
As a writer, Wong manages to overcome, for audiences, the complexity of the academic vernacular without losing critique. Their exhibition reviews on
Frieze
analyse the intentions of these works and contextualise for the reader. Reading Wong's review of Fyerool Darma's
solo exhibition at Yeo Workshop
amplified familiarity with Darma's practice without turning to complicated jargon. This helps me to possibly engage with Darma's work more deeply in the future with an informed perspective motivated by the review.
Wong's analysis of nor's
solo exhibition
in 2018 sent the message that In Love was a work of an artist in the process of developing some groundbreaking narratives. This is proven by nor's
Sekali Lagi, Siapa Nama Kamu? (Once Again, What Is Your Name?)
, created between 2019 and 2020, currently showing at the National Gallery. I imagine anyone who should come across the review on Frieze today would appreciate learning the context of nor's earlier works. After the review, Wong and nor collaborated on a
presentation at Peninsular
and Wong's publication, nominal bliss (2019).
Presentation by Wong Binghao and nor at Peninsular
To me, the meticulousness and ethics reflected through Wong's various works can appeal even to someone unfamiliar with art or theory. Although it may not be fair to claim accessibility through practices and networks that serve the arts circuit primarily, I believe that exercising more forms of collaboration and reflection upon individuals' ideas and research can pave the way forward in bridging gaps.



"... I do not claim omnipresence or universality when I speak about access. I'm aware that the publications speak to specific audiences. I am not under the misguided impression that any one project can claim to speak to every and any one. That would be a patronising promise. What is more interesting to me is learning about who the readers are, why they're reading the publications, and what they get from the experience of reading."

— Wong Binghao

With Indifferent Idols (2018), I thought about the multiplicities of an identity. I had the impression that Wong's work shared commonality to how we continuously queer ourselves even as systems choose to erase bodies in favour of binary, heteronormative expectations. Although this isn't the intention of Wong, my initial understandings of queerness (under the lens of

reclaiming

a

slur

used to weaponise LGBTQ people; the word has also been used on me as a child) pointed to a way of approaching deeper queer narratives that may not draw directly from queer activism or political movements. To clarify, it is important that these different forms of expressions remain divergent so as to reduce monolithic views of queer work. Because of that, I appreciate the documentation that Wong has achieved.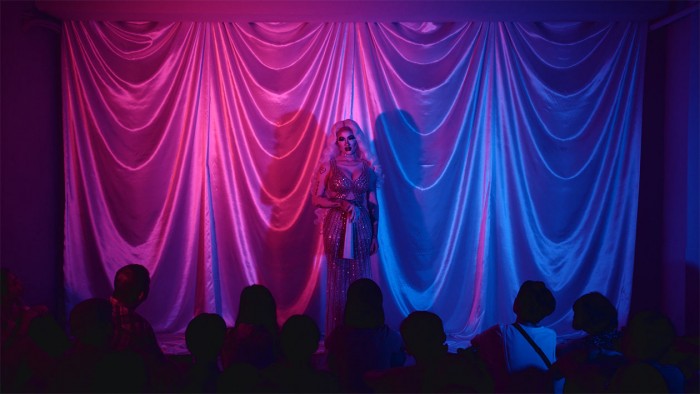 Submitted by Wong
"... it is imperative to assert that my practice is not trying to advocate for categorical, prescriptive, topical, thematic, or foolproof definitions of 'queerness' or 'identity'. While always accounting for the banalities and vicissitudes of the artist and the community's realities, I simultaneously conceive of queerness rather as a methodology, practice, or mode of thinking with and for other bodies of difference."

— Wong Binghao
I reflected upon Professor Madhavi Menon's writing in relation to how queerness manifests in our lived experiences. They may interact with standardisations and erasures, such as the expectations of upholding promoted heteronormative ideals of family units. Separately but in a similar vein, artist
Denise Yap's Miss Q
seems to resonate with the idea of queering relationships and national identity – taking cues from the Singapore orchid, Vanda Miss Joaquim.
nominal bliss
(2019) examined queerness in a slightly different way. Wong describes this as a "speculative proposal of transness of Southeast Asia as a region". Bringing the attention back to nor, the publication begins with an analysis of her work – a 2-channel digital video,
Good girls go to heaven, Pretty girls go online
(2019). I saw this discussion as an open interpretation of possibilities towards a queer virtual future. However, the patriarchal language apparent in technological systems and lack of safety barriers need to be addressed before more opportunities for exploration may open up.
---
Reflecting beyond Wong's work, gaps do not go unobserved in thinking about collaboration, discourse and community. I'm considering the regulations and guidelines that suggest (or, to some, dictate) preferred methods of expression and ways of funnelling labour. I wonder what works are deemed valuable or necessary, and how these determinations could be informed by layers of class, academic background, perception of ethics and organisational practices.
Who and what is deciding the necessity of discourse? Further, what factors and outcomes are involved in the institutionalisation and canonising of works? What are ways of inviting new prospects for organised efforts, collaboration and arts engagement?
"I believe in the urgency of conducting more intensive fieldwork to collaborate with the latent voices in an artistic ecology, so as to ask critical questions and create meaningful discourse around their supposed 'absence', 'under-representation' or 'newness'. That is to say, rather than valourise cultural difference for the sake of tokenistic presentation or claims to power, my practice approaches art in an agonistic and messy dialogue that warrants the complications of duration and discourse."

— Wong Binghao
Wong suggests that reducing modes of working to the binary of 'independent' and 'institutional' may not be effective. If one thing is clear, both binaries do not escape the responsibility of having to be publicly accountable for their decisions, including but not limited to considerations of gender, ethnicity, or class. To move beyond these binaries, it seems that open dialogues need to be consistently in session – debating subjectivities of what is considered ethical and responsible not just to an individual, but a group of people or structure at large.
Finally, Wong assures me that this continuous repositioning of one's practice contributes to one's learning. This pursuit should force us to contextualise our work more effectively to intended audiences. As a designer by training, my thesis advisors constantly remind me to simplify complex knowledge into well-designed nuggets of information for my audience. Similarly, I hope to see explorations of practices that show investment in experimentation and research without purely conforming to academicism.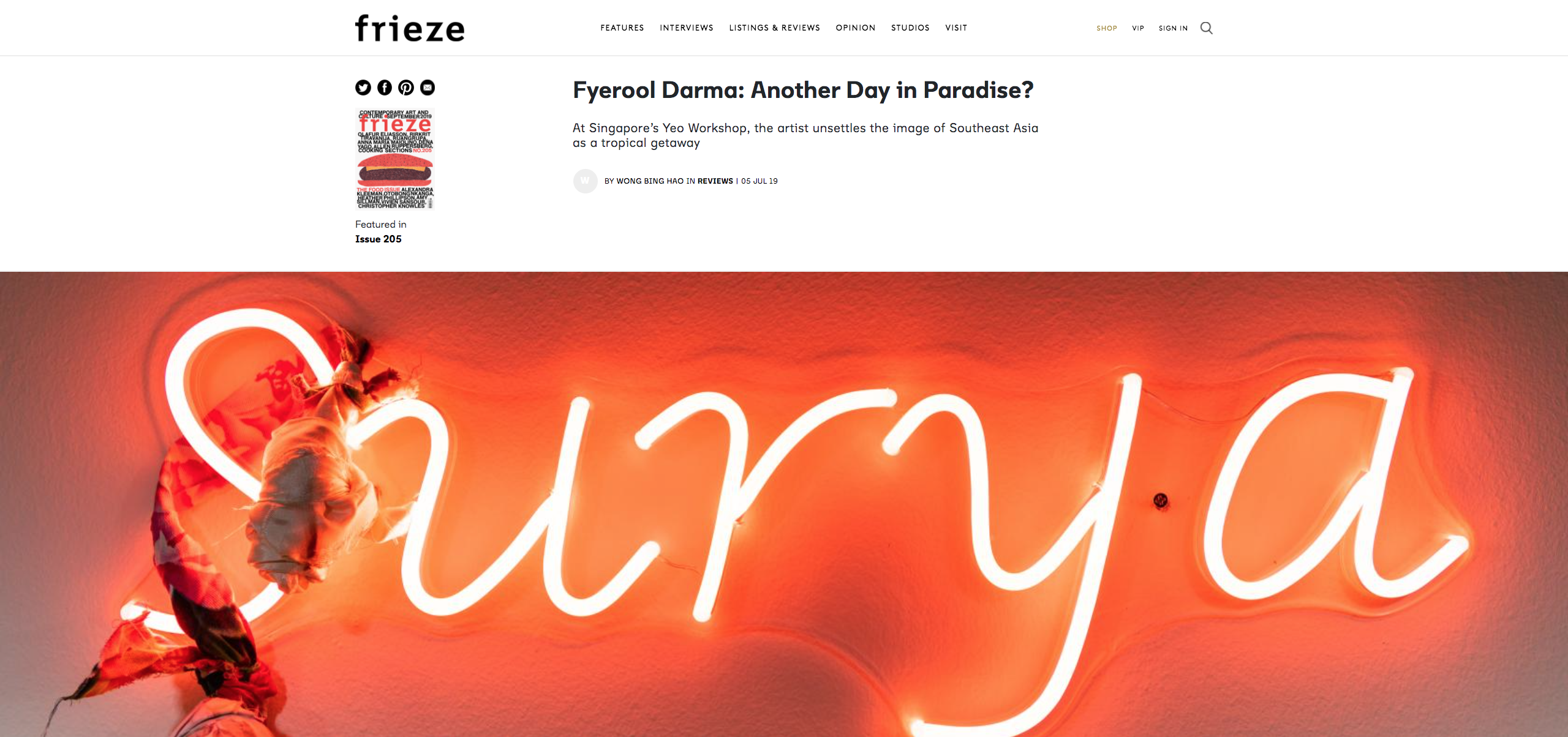 Wong's reviews on Frieze can be found
here
"I think art writing, and indeed cultural work, can sometimes be too cavalier and presumptuous. It is absolutely imperative—not to mention a matter of ethics—to cite projects and scholarship, especially those by your peers."

— Wong Binghao
To understand further the significance of collaborations, it is necessary to study the complexities of structures that may contribute to power hierarchies in funding and utilising arts today. I am also interested in the mobilisations of discourse within the arts. What role does art play in forming identity caricatures for the public and how can we reduce that? What kinds of identities are reflected in the arts we produce, and how much importance or emphasis do artists place in regards to that?
During this time, artists and practitioners have found ways of coming together to broaden their palette, workshop and rearrange priorities in art-making. In some sense, we are all forming new, unique intimacies that may have been chucked in the backseat previously and it will be interesting to watch how these moments can sustain in our post-pandemic lives.
Jenson Gabriel Tan is a corporate creative strategist. He believes in manifesting change and consistency.
© 2020 sand magazine and the author