Curator-Artist Berny Tan Reflects on Group Exhibition 'Deviations'

Interview, 12 May 2019
Deviations was an exhibition curated by Singaporean artist Berny Tan. Held in February, the independently-organised exhibition was housed in a vacant shop space in the East London area. Taking its starting point from a loose network of artists who have all chosen to develop their practice in the United Kingdom, the exhibition with all works considered derived from a process of reshaping the self and ideas.

In this interview, Berny reflects on her experience putting the show together, forging interpersonal relationships with the artists and examines how her personal artistic practice has been informed as a result of curating.
Deviations (2019), photographed by Elizabeth Gabrielle Lee (left) and Marvin Tang (right)


What were the original motivations of setting up Deviations, and were there elements that shifted in the process?
I was first asked to be part of
Deviations
back in July of last year. Three of the artists,
Genevieve Leong
,
Marvin Tang
, and
George Wong
had been roommates in their first year in London and wanted to do an exhibition of their works here. Genevieve knew that I was coming to London for my MA in Contemporary Art Theory at Goldsmiths, University of London, and she asked if I'd be interested in showing my work. I wasn't sure whether I'd be focusing very much on my art practice here in London, so I asked if they'd be open to me curating the exhibition instead.
I think the original motivations of Deviations stayed the same – a chance to present artworks to an audience outside of Singapore, in the country that all the artists had chosen as the place to further their studies. What changed was more the scale of the exhibition, and with it, the diversity of practices we presented. Genevieve, Marvin, and George already had a number of artists on their list. I felt it was quite heavily biased towards photographic or image-based practices, or at least practices that grew out of a focus on photography. I thought it was important to disrupt that in order to create more interesting connections between the works.
As a result, I suggested
Ashley Hi
,
Aki Hassan
, and
Pixie Tan
, all of whom work in various ways with three-dimensional space. I wanted the exhibition to lean into difference, to not fall into monotony, and that would benefit the photographic practices as well – which were in any case already branching beyond the two-dimensional image into installation, video, research archives, and so on.
How did you integrate the works of these ten artists within the space? We hear people talking about spatial design and interaction between works and audience, but what does that really entail?

We were really lucky to chance upon this vacant shop space in the Shoreditch/Hoxton area of East London. It had at one point been partially sublet as a gallery, so it had some of the fixings of a gallery space such as track lighting, but was still idiosyncratic enough to be really interesting for us to work with. Half of it was a white cube, half of it was painted entirely black, and there was a bar area and an old, musty basement down a very precarious set of wooden stairs. It was such a strange combination of conventional and alternative exhibition spaces.
I worked for two years with OH! Open House as Assistant Curator, and there was a huge emphasis on site specificity in all their programmes. After all, the flagship programme was an art walk that brought artworks into existing domestic or public spaces – the art had to adapt to or incorporate the space, rather than the space being made into what we would conventionally consider 'hospitable' for art. So I was very much in my element working with the space for Deviations – responding and adapting to the existing characteristics of the space. It was a really intuitive process for me as well as for the artists.
Ashley Hi, A Video of Pigeons, 2019, lenticular prints, servos, Arduino boards, photographed by Elizabeth Gabrielle Lee
For example, Ashley's work, which used the imagery of pigeons, was placed on the floor next to street, as if the pigeons were in their urban environment. Genevieve's object assemblages would respond well to being placed on the multiple surfaces within the bar area.
Elizabeth Gabrielle Lee
's work needed a white space where
Herman Rahman
's needed its own corner in the black space. Pixie specifically wanted to use the basement as a hidden atelier.
Pixie Tan,
Fabrications, 2019
, calico, cotton, brown paper, video, performance with elastic fabric band, photographed by Elizabeth Gabrielle Lee
There were works that were clearly enriched by each other when put in specific combinations. I constantly played with different permutations in my head, using certain artworks as anchors within the odder parts of the space, and building out from there. One thing that emerged as a kind of underlying narrative to the show was this movement from the present body, as seen from Aki and
Alvin Ong
's works playing with semi-abstract forms that recall the flesh to the absent body – for example, Herman and
Jonathan Liu
create works around persons who had disappeared.
This again came out very organically as I tried to imagine the flow from one work into another as the viewer moves from the white cube space, down into the basement, through the bar area and finally ending in the black room. I feel that the word 'design' suggests a kind of intentional, rigid structure that isn't particularly reflective of my curatorial process. There were definitely considerations of the viewer's aesthetic and conceptual experience of the show in a more latent, maybe even subliminal sense. It was very much rooted in how best to bring out the materialities of each artist's practice and how they might respond to the immediate environment within which they were placed.
Aki Hassan, Only Upwards From Here, 2019, digital print on fabric, risograph prints, metal, silicone, plaster, photographed by Elizabeth Gabrielle Lee
Were there other considerations that have contributed to the entire experience of Deviations?

While this might seem comparatively boring, the logistical considerations of pulling off this exhibition really did shape the experience. At certain points, even as late as December, we were not even sure about whether we would be able to secure the funding or space. But things fell into place. It couldn't have happened without the management team, which besides myself included Genevieve and Marvin. It genuinely goes a long way when the people you work with are conscientious and responsible, and when there is mutual trust and respect. And between the larger group of artists as well – we had our own camaraderie in big and small ways. There was hardly any friction or conflict where there easily could have been, especially in a project that involves so many people.
Speaking of funding, we were very lucky to have had a private donor step in to help us with the show. Of course, this gave us the funds to rent the space but it also allowed us to pay each of the artists a token stipend for their time and labour, on top of the budget they were allocated for artwork production. This is something that is really important to me – to acknowledge that their efforts are worth this compensation, in a world where cultural producers and workers are often paid very little, if they are paid at all.
I also have to thank our designer,
Judea Faith Cheong
. I see her as the eleventh artist in
Deviations
. She put in so much effort to design this refreshing exhibition identity that played with typography to reflect the theme of
Deviations
. She also came up with a really stunning and thoughtful format for our publication, which added a layer of professionalism and more importantly made the project something that could live on beyond the actual exhibition, and shared with people who could not physically be there.
Looking back, how was the curation process in terms of interaction? Were there discussions on what should or shouldn't be showcased, for example?

As a curator who is also an artist (or an artist who is also a curator), I am very much invested in a form of interaction with artists rooted in empathy for and sensitivity to the process of creating. I try my best to give artists my time and energy when they need it, and when they don't, to give them space to let things develop along their own trajectories.
Other than that, I can't characterise my interactions with the ten artists uniformly; I discuss things differently depending on the artists' personalities and ways of working and thinking. Some artists I had the privilege of meeting in person multiple times, others I had to make do with WhatsApp conversations and emails. But I always tried to make myself available in whatever way I could when they needed me. I was still honest when I felt something wasn't working, and I encouraged them to be honest with me if they were uncomfortable with anything.
When we were installing the show, it was also important to have the artists help each other decide on the placement of their work, rather than it just being a discussion between me and the artist in question. Sometimes the 'answer' isn't clear to either of us and it was great to have most of the artists working in the space together.
One particular interaction with Genevieve really stayed with me. She had given me a brief overview of her work, called
The scent of the sun
, so that I could write the artwork description for the publication, but was struggling with how to put her concept into words. When I returned with my version the next day, she was moved by how I described her work. She told me that she now had new motivations and guidelines for the work that she had been searching for, and that she could make decisions for what worked and what did not.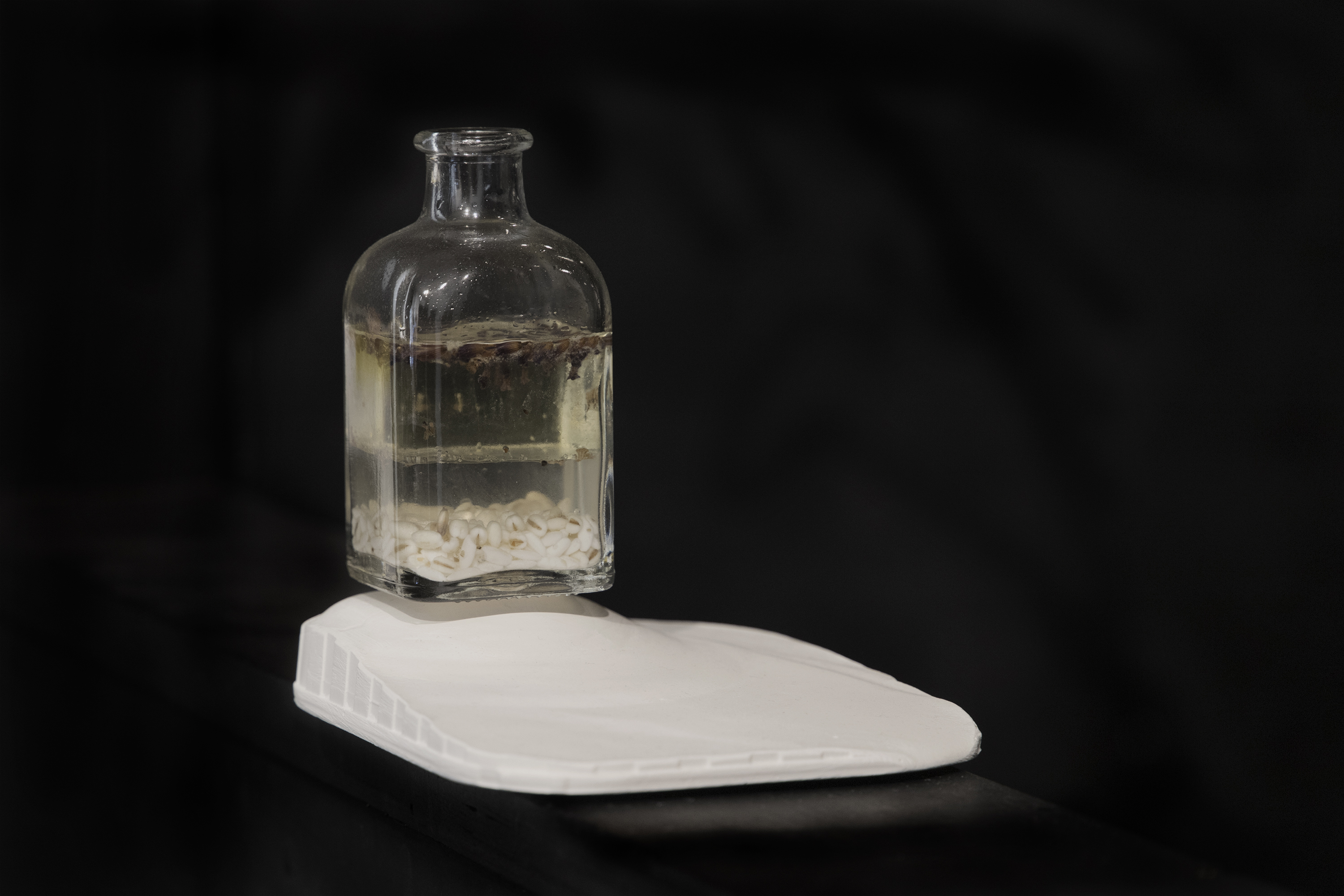 Genevieve Leong,
The scent of the sun, 2019
, found objects, wood, canvas, air dry clay, plaster, photographed by Elizabeth Gabrielle Lee

These moments are really valuable and validating for me as a curator, because I want more than anything to help other artists synthesise what I can already see in their work and in the way they talk about their work. I know what it means for someone to understand as well as misunderstand your work, to feel like you don't yet have the vocabulary within which to situate your practice, as well as that glorious sensation when things finally make sense, in words or otherwise.

Working with each artist through this process helps me as a curator too – in fact, it was something that Genevieve told me about how I helped 'string out her messy mind' that ultimately made it into my curator's note for Deviations, in which I talk about taking "the messiness in our minds and offering it up to the world".


Genevieve Leong,
The scent of the sun, 2019
, found objects, wood, canvas, air dry clay, plaster, photographed by Elizabeth Gabrielle Lee
As you said, everyone in the exhibition had something in common – being Singaporeans who chose to further their studies in the UK. Have you observed any mixture of influences or context in the works and the way the exhibition was set up, whether conscious or not?

I've been in London for less than eight months, so I wouldn't want to make any generalisations about the impact of coming to this country to study. While this journey from Singapore to the United Kingdom binds us, we all have such diverse practices, educational backgrounds, and life experiences. Even if you could say that many of the artists were affected by similar forces or ways of thinking, it manifests so differently, at least in the works showcased in
Deviations
.
Some artists became more interested in the colonial after coming here; others moved away from their preferred medium altogether. Perhaps one could say their practices all became more experimental, but I think that's a logical progression from displacing oneself from one's comfort zone. You are forced to step outside of yourself and look at your work more critically, and from different perspectives. The old cliché still applies – change is the only constant.
Based on your experience and observations, what's the function of self-organised exhibitions as compared to larger formats such as those led by institutions, galleries or organisations?

Self-organised exhibitions have to forego the resources (money, space, research materials, even publicity and press), frameworks, legitimacy, and audiences afforded by larger institutions. But they also have the freedom to experiment in ways that larger institutions might not allow. This lifts certain pressures off both curators and artists – one doesn't have to worry about whether it's accessible to the institution's audiences, or whether it fits certain agendas, visions, missions, or whether the work can sell. These are pressures that may well have nothing to do with the quality of the artwork or the curation.
Sometimes, it could also simply be a matter of having the leeway to put very young or relatively unknown artists in the show. Perhaps even making certain choices that you can't really explain or justify yet, that you just have a feeling will work or you just want to try out and see what happens. There are fewer people you have to satisfy, and fewer boxes you have to tick. There is essentially more room to fail, and with that comes more room for something to surprise and excite you in ways you might not have expected.
At the end of the day, whether it's a self-organised or institutional project, you still need to ask yourself if you're doing right by the artists. At least, that's what I ask myself: with every decision I make, even with the restrictions that I have, am I supporting the artist and their work to the fullest?
How does your role as an artist inform your curatorial work, and vice versa?

The relationship between my art practice and my curatorial practice is something I'm still working through, and one of the reasons why I came to London to study – to give myself some space to straighten out my thoughts, while still exposing myself to new ideas. I think the most concrete way that my art practice has manifested in my curatorial approach is empathy for the creative process, as I mentioned previously.
It's important to me as curator to be able to get into the artist's head and ask the right questions to help both of us understand the practice better. When an artist is making work, at the very least when they are working from a place of sincerity, often they are making themselves vulnerable to the world. Shouldn't I, as a curator, be willing to share in that vulnerability, to give a part of myself to them? To me, that's a crucial part of the curatorial process, even if it isn't visible in the final 'product' of the exhibition.
Herman Rahman, Strange Days, 2019, video., photographed by Marvin Tang

After curating
Deviations
, I'm gradually becoming more aware of how I work in a very intuitive way when I'm making connections between artists and artworks. I used to think on some level that it was a bad thing, that I had to have a very clear rationale for why I'm putting one work next to another, especially when I was working in an organisation that had to frame artworks within a narrative. But I'm more open now to giving into the ambiguities of working from instinct, and how that can give rise to more layered connections between artworks, even if they can't be so easily or rationally verbalised at the point of making the decision. I see this in parallel, somewhat, to certain aspects of the process of making art – alternating between a verbal and non-verbal space, letting yourself get lost in your own ideas, sometimes only being able to arrive at explanations after a period of experimentation and failure.
Besides that, I've been thinking about how I could organically translate the obsessions and tendencies that dominate my art practice into my curatorial practice. My art practice encompasses many different aesthetic strategies but tends to occupy this ambivalent space between rational, systematic thought and intangible emotions and experiences. People tend to see my art practice in terms of medium – embroidery or the use of diagrams, for example – and perhaps I once saw it that way too. But those are merely tools.
More importantly, I have been cultivating a type of sensibility in my own work, in all my attempts to locate subjectivities within systems and systems within subjectivities. I think this sensibility can also become the crux of my curatorial practice. Maybe it is already helping me as a curator without me being fully aware of it. It's something I'm still trying to figure out, so I can only speak vaguely about it for now. But as I continue to shift between artist and curator, it will hopefully crystallise for me.
Berny Tan (b. 1990) is a Singaporean artist, curator, and writer, currently pursuing her MA in Contemporary Art Theory at Goldsmiths, University of London. Her interdisciplinary practice explores the tensions that arise when one applies systems to – and unearths systems in – intangible personal experiences, complicating the false binary between rational and emotional. Her projects are attempts to reframe this space of ambivalence as generative rather than paralytic. She has exhibited her work in Singapore, New York, and the United Kingdom, including two solo presentations in Singapore in 2018.

© 2019 sand magazine and the author